running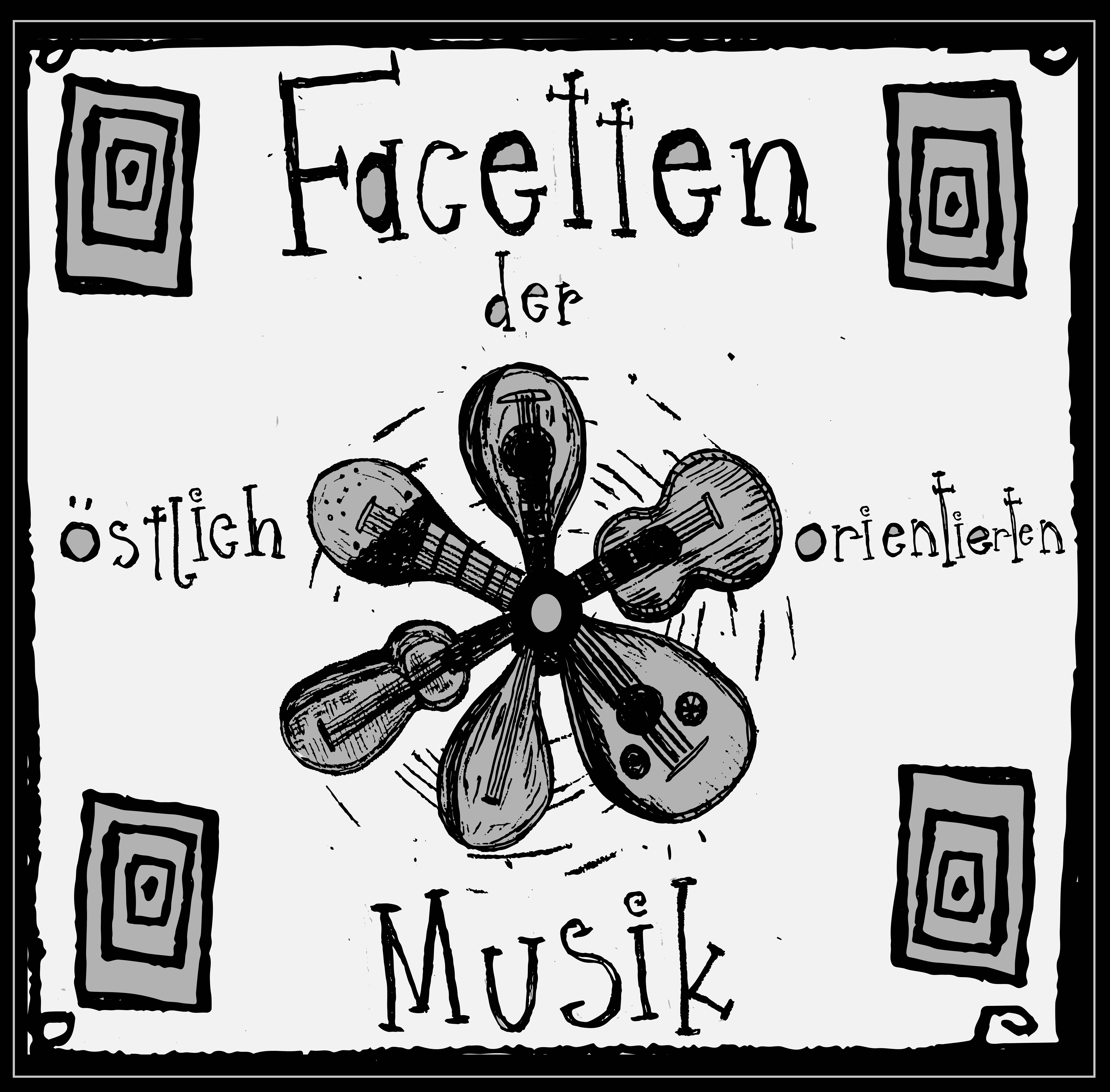 Facetten der östlich orientierten Musik
For event dates, scroll down!
ECHOS will invite Grazer musicians of a remarkable level with any relation to eastern-oriented music, to present in public a topic of their choice. The invited musicians are requested to decide themselves about the form of the presentation as well: workshops, lectures, instrument demonstrations or instrumental technique masterclasses and live performances, are only a few of the possibilities. Through the "Facets of eastern oriented music" ECHOS wants to give the opportunity to the Grazer musicians to share their knowledge and simultaneously to reveal the plurality of the subject eastern oriented music, as ECHOS defines it.
***
Conception: Antonis Rouvelas
Organisation and realization: Echos - Verein für östlich orientierte Musik
Poster: Benjamin Klug
Supported by:
- Stadt Graz
- Artist's
- die Brücke
- die Verteilerei
***
CORONA NOTICE:
-) Please always double check the dates on this webpage in case of new Corona measures!
-) Before coming, please register via e-mail to office@echos.mur.at, places are limited!
-) Please inform yourself about recent Corona measures!
Events
(POSTPONED) Wie sich ein Taksim in der Zeit entfaltet | Presentation | Sinan Samanlı
Sinan Samanlı is a professional Oud player and will present us the art of eastern improvisation, the Taksim.
In the aftermath of the presentation the guests are invited to stay for a little after show party to celebrate our first presentation row.
2021-12-09, 19:00
Dolly Bell (Heinrichstraße 47, 8010 Graz)
Elemente östlicher Musik in zeitgenössischer Musik (in English) | Presentation | Antonis Rouvelas, Feliz Anne Reyes Macahis
Feliz Anne Reyes Macahis and Antonis Rouvelas, both contemporary classical music composers, will present how they use materials of eastern music in their own compositions.
2021-11-17, 19:00
die Brücke (Grabenstrasse 39a, 8010 Graz)
Romamusik als Ausdruck sozialer Kritik | Presentation | Jakob Wiedner
Jakob Wiedner gives an introduction into Roma music and shows how Roma in south eastern Europe use their music for formulating social critique.
2021-10-28, 19:00
Dolly Bell (Heinrichstraße 47, 8010 Graz)
Indian Classical Music: Let's get tuned | Presentation | Robert Kres, Gerhard Rosner
Robert Kres and Gerhard Rosner give us a theoretical and musical introduction into the music of India.
2021-10-11, 19:00
Artist's (Schützgasse 16, 8020 Graz)
Die Musik der vergessenen sefardischen Welt (in English) | Presentation | Aron Saltiel
In his presentation, Aron Saltiel will give an introduction into the music of the Sephardic jews.
2021-10-03, 19:00
die Brücke (Grabenstrasse 39a, 8010 Graz)
A journey through Flamenco Music - Past and Future (in english) | Presentation | Cagatay Ata
Born in 1986, Çagatay Ata started playing the guitar at the age of 17. After finishing his engineering degree in Turkey, he came to Austria in 2010 to study music. He worked with Ortrud Posedu, Adriano del Sal and Armin Egger during his concert guitar studies and afterwards started with his master studies in concert guitar and simultaneously started studying bachelor in pedagogy in KUG. During the studying period, he mainly focused on chamber music, contemporary music, modal harmony, jazz and popular music, south American music and flamenco music. He is currently performing, teaching and continuing his studies.
2021-07-03, 19:00
die Brücke (Grabenstrasse 39a, 8010 Graz)
Balkan and East Mediterranean musical idiom through Modern Western harmony (in english)| Lecture | Vasilis Nalmpantis
During this presentation you will learn ways that the Balkan, Greek and Eastern Mediterranean musical idiom can co-exist with Western harmony. From using chords and melodies, to rhythm and sound textures, find out how these two music systems interlock using examples by established artists as well the methods of the presenter.
Vasilis Nalmpantis was born in Kozani in 1987. He received his first knowledge in Trumpet, theory and harmony of music first in the local philharmonic orchestra and then in the municipal conservatory of the same city. During the high school years, he is an active member of his local traditional music scene. In 2010 he graduated from the Ionian University of Corfu with a degree in "Jazz Trumpet" and in 2018 he graduated from the Jazz Department of the University of the Arts in Graz, Austria, with Specialization on "Jazz Trumpet" and acquisition of knowledge in composition and Orchestration of large jazz ensembles. He is self-taught in the science of sound recording, mixing and music production. In his career so far he has played and recorded with ensembles and artists of various kinds styles: jazz, rock, classical music, Greek tradition, funk, reggae and more, and has done numerous tours in Greece and abroad. During his studies of Jazz and Modern harmony he developed an interest in exploring the way the traditional music of Greece and the East Mediterranean area can co-exist with the western music genres(Jazz, Rock, Funk, R&B). After gaining a deep knowledge in all the above mentioned musical idioms, a stylistic fermentation took place. The result was his own personal ''east meets west'' musical style. Which is evident in his compositions, in his personal progressive-world-jazz project, Ellipsis Quintet and the world-fusion band HaydeTanz, of which he is an active member.
2021-06-15, 19:00
Artist's (Schützgasse 16, 8020 Graz)
Esraj – an unknown Indian treasure | Lecture, Concert | Denovaire
Das alte indische Streichinstrument Esraj klingt wie ein Sonnenaufgang in Rajasthan oder wie eine verrostete Fabrikshalle am Neptun... zwischen Klassischem und avantgarde-noize balanciert Denovaire auf den Graten von Kultur, jedoch auf leisen Sohlen für feine Ohren, und wer diese öffnet kann es Glitzern hören.
Denovaire ist Musiker und Komponist vielfältiger Genres, Workshopleiter, Veranstalter, Produzent und Keyboarder sowie Spieler des indischen Streichinstrumentes "Esraj". Studium der Komposition in Graz bei G. Kühr, B. Furrer, G.F. Haas, P. Billone. Aktiv im In- und Ausland, werden seine Instrumental- und Chorwerke von renommierten Ensembles aufgeführt. Als Produzent ist er für verschiedene Musiker und Labels tätig. Für das 2018 mitgegründete Startup GreenLobster Media komponiert er orchestrale Musik für Games. Er gewann Stipendien und Kompositionspreise. Die intensive Beschäftigung mit indischer und aussereuropäischer Musik begleitet ihn seit Jahren und findet Eingang in seine kompositorische Arbeit. Denovaire lebt und arbeitet in Graz. www.denovaire.at
2021-06-08, 19:00
die Brücke (Grabenstrasse 39a, 8010 Graz)
Introduction to the modal music (in english) | Lecture | Dimitris Psonis
"In the beggining was the melody..In the end, maybe too....! Almost the 80% of the earth population has a modal music. Modal music is based in the melody and has no polyphony. Thus, the modal systems are the organization of the melody, as the harmony is the organization of the polyphony. This workshop is about the modal music and rhythms of the geographic area from the balkans till Afganistan, but with a very special emphasis in the area which now is Greece and Turkey. This music that has been developed through so many centuries in the Ottoman empire, the Byzantium and ancient Greece before of that, can be found in the folk music of these region, as well as in the classical music around the "serai", the court.
The "tetrachords" or scales, the "microintervals", the rhythms of 5,7,9,11,13, 24, 32.....beats, the middle eastern improvisation (Taxim) etc, will be not only addresed theoretically but also performed live with bow, plucked and percussive instruments. Various examples will be heard, in a frame of social and historical approach. All the above will be explained in a way that a "western" musician will be able to integrate the richness of this music through comprehensive examples and scores." Dimitri Psonis
About Dimitri Psonis
His musical journey began in Athens where he was born in 1961, with the Guitar (teacher: Notis Mavroudis) but he soon turned to the Bouzouki and the "Rebetiko" music. He then studied Santouri (teacher: Tasos Diakogiorgis) and composition (teacher: Yannis Ioannidis). At the age of 19 he was a member of the group "Opistodromiki Kompania", and gave concerts with the composers: Christos Leontis, Manos Loizos and Thanos Mikroutsikos. In 1984 he settled in Madrid where he studied Percussion in the "Real conservatorio superior de música de Madrid" obtaining the highest Diploma on 1989, and Carl Orff pedagogy. Continued courses on Marimba (teacher: Robert Van Sice), and seminaries of Contemporary Percussion in Amsterdam (teacher: Peter Prommel), contemporary music with Ianis Xenakis and Vibraphone with Gary Burton. In Spain he collaborated with symphonic and chamber orchestras, choirs, television and radio productions, theaters, ballets, as a studio musician for CD s and cinema. He founded the marimba trio " Acroma", the percussion quartet "Krusta" and the contemporary music sextet "P' An-Ku" Also he has taught percussion, initiation in music to children, and given seminars to music teachers. As a member of the group "La Clave" he gave educational concerts. From 1995 he turned back to the oriental music studying Santur, Oud, Saz, Politiki Lyra, Oriental Percussions e.t.c. and founds the group "Metamorphosis" recording an homonym CD honored with the Goldberg price. Cooperating with many musicians, specially with Ross Daly giving numerous concerts and getsdeeper into the modal music. He has given numerous seminars about the"Makams and Usuls", the organization of the modal oriental music and rhythms. For more than ten years he has been collaborating with the Khaled Arman and his Kabul Ensemble, the Netherlands Blazers Ensemble of Amsterdam, the catalan singer Maria del Mar Bonet, with the jazz musician Javier Paxarino, the folk musician Eliseo Parra, recording many CDs and giving concerts worldwide. He participated in productions of Hollywood films such as "Exodus" by Ridley Scott, "Buried" by Rodrigo Cortes, "Risen" by Kevin Reynolds and as a soloist for Alberto Iglesias's "The Kite Runner" by Marc Foster, soundtrack nominated for Oscar and Golden Globes awards in 2007. The last 20 years and currently, he is collaborating closely with Jordi Savall as a member of Hesperion XXI as well as a soloist, in many projects, in concerts all around the world and recording numerous CDs of which "Dinastia Borgia" won the 2010 Grammy award. He is one of the artists ambassadors of IYMF. (Yehudi Menuhin foundation). He is integrated as a teacher, in the European union's Creative Europe project ORPHEUS XXI, which aims to allow the integration of professional musicians refugees and to share their culture to children and youngsters.
2021-05-19, 19:00
Artist's (Schützgasse 16, 8020 Graz)