Dimitris Psonis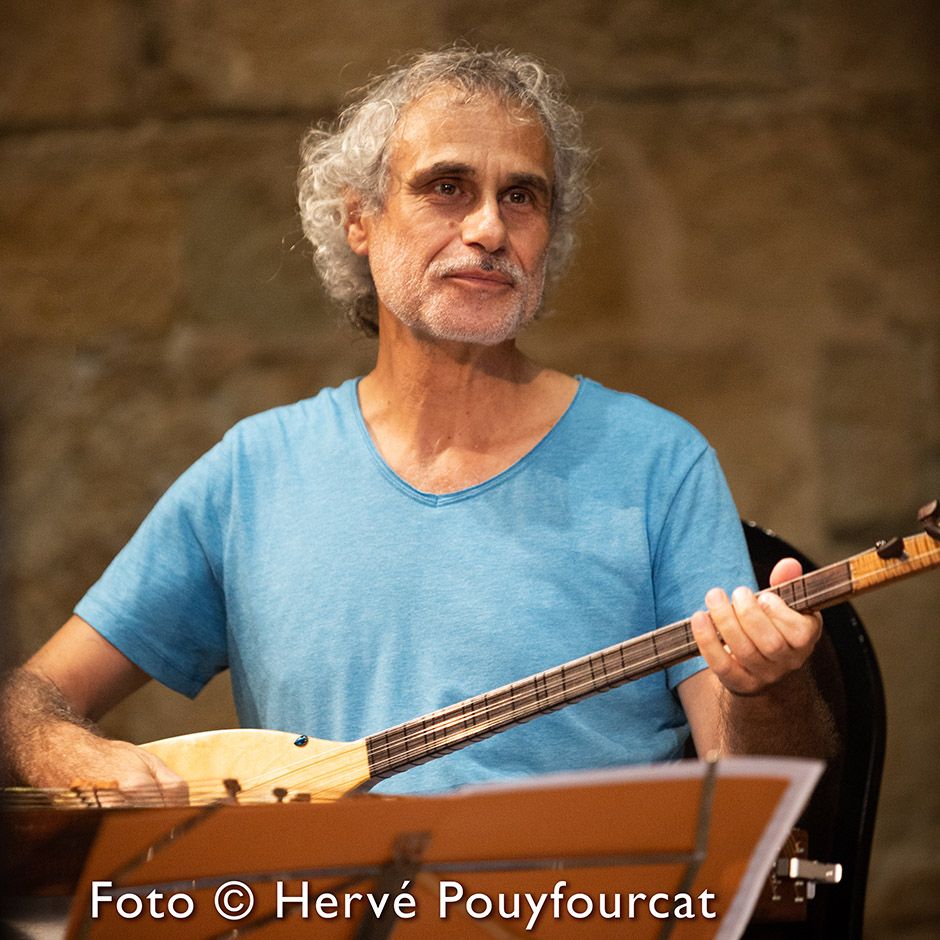 His musical journey began in Athens where he was born in 1961, with the Guitar (teacher: Notis Mavroudis) but he soon turned to the Bouzouki and the "Rebetiko" music. He then studied Santouri (teacher: Tasos Diakogiorgis) and composition (teacher: Yannis Ioannidis). At the age of 19 he was a member of the group "Opistodromiki Kompania", and gave concerts with the composers: Christos Leontis, Manos Loizos and Thanos Mikroutsikos.
In 1984 he settled in Madrid where he studied Percussion in the "Real conservatorio superior de música de Madrid" obtaining the highest Diploma on 1989, and Carl Orff pedagogy. Continued courses on Marimba (teacher: Robert Van Sice), and seminaries of Contemporary Percussion in Amsterdam (teacher: Peter Prommel), contemporary music with Ianis Xenakis and Vibraphone with Gary Burton. In Spain he collaborated with symphonic and chamber orchestras, choirs, television and radio productions, theaters, ballets, as a studio musician for CD s and cinema. He founded the marimba trio " Acroma", the percussion quartet "Krusta" and the contemporary music sextet "P' An-Ku" Also he has taught percussion, initiation in music to children, and given seminars to music teachers. As a member of the group "La Clave" he gave educational concerts.
From 1995 he turned back to the oriental music studying Santur, Oud, Saz, Politiki Lyra, Oriental Percussions e.t.c. and founds the group "Metamorphosis" recording an homonym CD honored with the Goldberg price. Cooperating with many musicians, specially with Ross Daly giving numerous concerts and getsdeeper into the modal music. He has given numerous seminars about the"Makams and Usuls", the organization of the modal oriental music and rhythms. For more than ten years he has been collaborating with the Khaled Arman and his Kabul Ensemble, the Netherlands Blazers Ensemble of Amsterdam, the catalan singer Maria del Mar Bonet, with the jazz musician Javier Paxarino, the folk musician Eliseo Parra, recording many CDs and giving concerts worldwide.
He participated in productions of Hollywood films such as "Exodus" by Ridley Scott, "Buried" by Rodrigo Cortes, "Risen" by Kevin Reynolds and as a soloist for Alberto Iglesias's "The Kite Runner" by Marc Foster, soundtrack nominated for Oscar and Golden Globes awards in 2007.
The last 20 years and currently, he is collaborating closely with Jordi Savall as a member of Hesperion XXI as well as a soloist, in many projects, in concerts all around the world and recording numerous CDs of which "Dinastia Borgia" won the 2010 Grammy award.
He is one of the artists ambassadors of IYMF. (Yehudi Menuhin foundation). He is integrated as a teacher, in the European union's Creative Europe project ORPHEUS XXI, which aims to allow the integration of professional musicians refugees and to share their culture to children and youngsters.