Vasilis Nalmpantis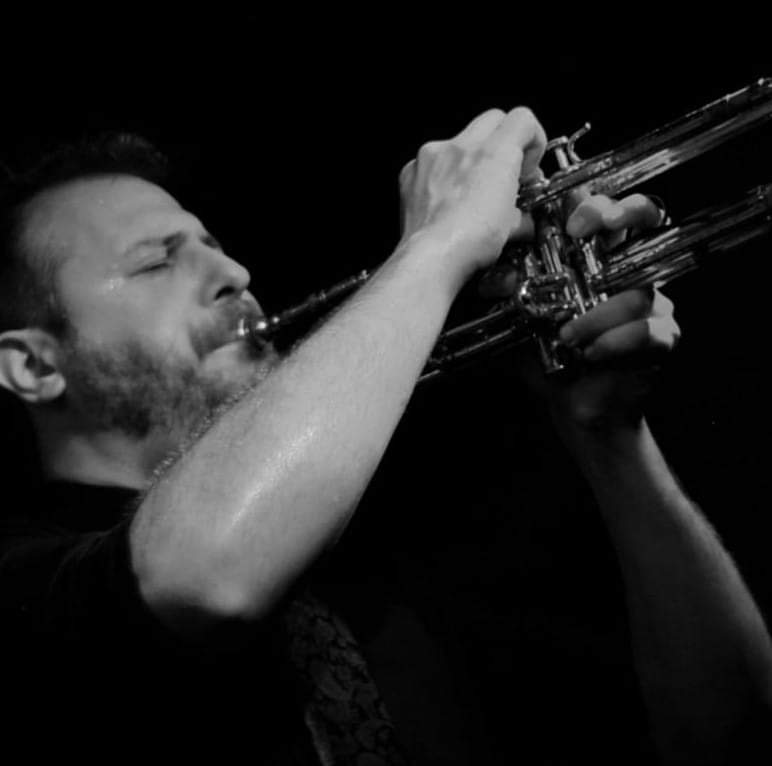 Vasilis Nalbandis was born in 1987 in Kozani. He received his first knowledge of trumpet, theory and harmony, initially in the local Marching band, "Pandora", and then at the Municipal Conservatory of the same city. During his high school years he was an active member of the local traditional music scene. In 2010 he graduated from the Ionian University of Corfu with a degree in "Jazz Trumpet". In 2018 he graduated from the Jazz Department of the University of Art in Graz, Austria, with a degree in "Jazz Trumpet Performance". Gaining, among other things, knowledge in composing and arranging of large and small Jazz ensembles. He is self-taught in the field of sound recording, mixing and music production as well as video editing.
"The Journey"
In his career so far he has played and recorded with ensembles and bands of various styles,
jazz, rock, classical, Greek and Balkan traditional, funk, reggae and others, and has toured extensively in Greece and abroad. Some of the highlights of his career include:
● Touring with American bassist Stafford James in Austria and Switzerland.
● He won the sixth(6th) place in the Eurovision Song Contest in 2013 with KozaMostra.
● Performed on stage with African guitarist Ogene Kologbo in Thessaloniki, Greece
● Performed with the Ionian Symphony Orchestra at the Athens Concert Hall
"Comfort Zone"
Bands and artists with whom he has collaborated as a performer, composer, in concerts and
recordings:
● Koza Mostra (balkan-rock)
● Speakeasies(Swing)
● Babies in the Fire(rock-punk)
● Auditors Domination(electro-rock)
● Orchestra Sonora (funk, reggae)
● Tomas Lukaz(jazz)
● Bruna Matic(jazz)
● Melios Katsamakis(balkan)
● Meanwhile in Mexico(surf rock)
● Loizos Pafitis Quintet(jazz)
Since 2016 he lives and works as a musician, composer, music producer in Graz, Austria.
Currently he is working on the production of the first album of his personal projects, HaydeTanz (world-fusion) and Ellipsis Quintet(world-greek-jazz) and is an active member of the Echos Verein. He is also in the process if developing a Micro-tonal trumpet model in cooperation with the Austrian brass maker, Martin Lechner.
"Frission"